Spring is coming (really, it is!) and it's never too early to begin thinking about creating a "Parrot Garden"! In today's post about edible flowers, guest blogger Shauna Roberts continues to share her expertise about nutrition with the following information about feeding flowers to parrots:
Flowers can be a fun addition for garnish, to add a dash of seasoning or foraging play such as stuffing Day Lily flowers with mash. You can purchase flowers from fresh herb sections in many grocery stores or gourmet grocers. Only offer those flowers that you know are safe and edible. If growing your own flowers and fertilizer is used, only use those products that are labeled for use on edible crops.
CAUTION: Make sure that any flowers offered are not from a florist or flower shop. Flowers need to be free of any sprayed-on chemicals. Also research any flower choices to make sure they are safe to eat. It's important to remember that not all flowers are edible.
Always identify the plant with the latin name. Correct identification is crucial.
Don't assume what is safe or toxic to one animal or bird species applies to all. For example, macadamia nuts are enjoyed by parrots but toxic to dogs.
A special caution from Candace Dryden, Landscape Architect:
As a landscape architect it is always wise to check the latin names of the edible plants. "Daisies", for example, is a common name for many composite type flowers. There are a few Latin names for Daisy, Leucanthemum and Bellis. As well as, always research the flower to see what other medicinal properities the flower might have. If offering too much can have a medicinal reaction. For example:  Daisies are also use in Tea as a diuretic. I love the idea of adding flowers to a bird's diet as a foraging tool, but use common sense and always offer as free choice.
View a list of edible and poisonous flowers, along with their Latin names, here.
Some recipe ideas from The Happy Cockatoo: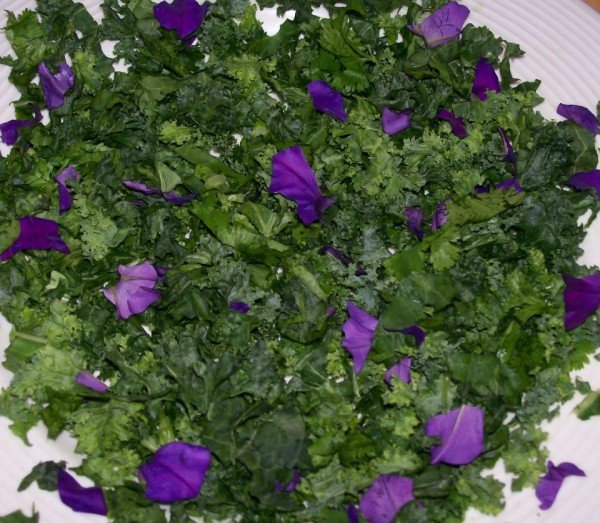 Leafy greens with petunia petals.
Leafy Greens: Kale, Collard, Mustard, Dandelion and Cilantro.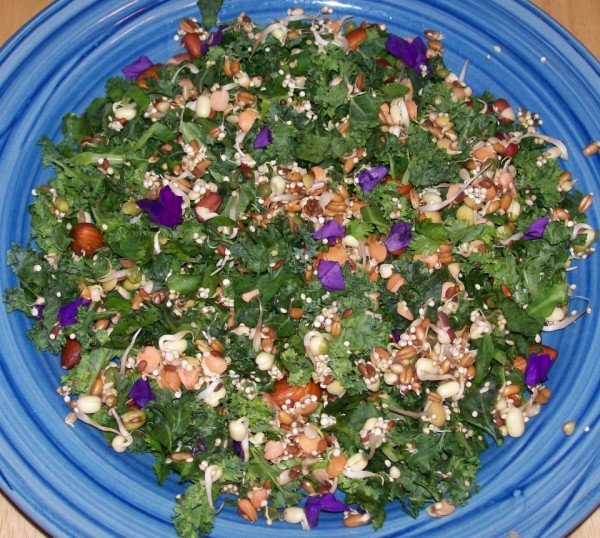 Sprouts salad with petunia petals.
Sprouts: Quinoa (black, white and red), Mung, Garbanzo, Adzuki, Red Lentils, Green Lentils, Fenugreek, Wheat Berries, Millet, Buckwheat, Short Grain Brown Rice, Sesame, Chia, Flax and Almonds.
Leafy Greens: Kale, Collard, Mustard, Dandelion and Cilantro.
Flower Power!
On Parrot Comforts, Irina Pismenskaya shares one of her parrot dinner creations along with a gorgeous photo. Digby's (TAG) dinner includes: Harrisons bird bread (ground up pellets, a tsp of veggie magma, 1/2 tsp ground up alfalfa, mashed veggies), and from the garden: a slice of peach, a blackberry, a slice of cucumber, rosehip, nasturtium, rose, mint and calendula flowers.
About Shauna Roberts: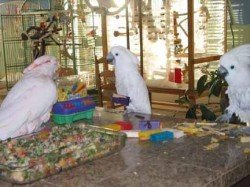 Shauna has had an interest in nutrition since the mid late 1960s. She renewed that interest in 1997 when a cockatoo wasn't doing well on pellets, and she realized a fresh diet was needed. The bird is now over 17 and doing well, as is the rest of her flock – now 16 – some of which arrived with dietary health issues. She is also a diet consultant for the parrot welfare organization, The Gabriel Foundation. Her research has taken her to various conferences to listen to nutrition experts as far as Japan and EU, as well as attending AAV (Association of Avian Veterinarians) conferences since 2003 in her mission to learn.
After retiring as a veterinary assistant, she discovered the internet and has been learning from and helping bird owners since 1995. In 2003, a parrot food list was founded named FeedingFeathers and now has over 3,700 members.
About Elle Michelle:
Elle adores parrots and has shared her home with them for over twenty years. She's always trying to come up with fun new ways to feed the flock nutritious and enriching meals. She buys most of her "bird food" in health food stores so she knows that the ingredients are all fresh, human-grade and organic. She still feeds a quality pellet mix, sprouts, and lots of fresh leafy greens, vegetables and some fruit and flowers. She makes all different types of meals so that they get a good variety of fresh foods daily.
Elle currently writes a feeding section for the Florida Parrot Rescue newsletter and provides healthy recipe ideas for the Arizona Aviculture Society newsletter. As well, she founded a "healthy parrot feeding ideas" group on facebook, The Parrot's Pantry, where members can share their healthy meal ideas with one another.
Further information:
Download the poster here
---