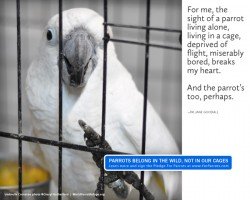 Are you a teacher, vet, activist, concerned student, parrot advocate? Then these free parrot posters are for you to help you educate others about the issues surrounding captive and wild parrots!
The posters on this site have been designed to share online (ie facebook or twitter), and to print and display. You can print them wherever you are on your own home computer, or send them to be printed as photos at London Drugs, Costco etc.
Put them up in an office, classroom, animal-friendly store. Hand them out at avian conventions or as part of your educational program. Click here to see how the posters are being used by others.
These posters are free?
Yes, they are free; the photographs and work to design them have been donated to the cause. We want to make it very easy for people to help educate and promote the cause for parrots.
Although these posters are free, please respect the copyright:
The license is a creative commons license (see below for details).
The individuals who have provided the photographs for use in the posters maintain their individual copyrights. There is space left for you to place your own organization's logo on the poster, should you wish to do so. Please don't alter the posters in any other way.
You can download, share and print these posters. You cannot alter them, aside from adding your organization's logo.
Also, you cannot sell these posters in any way. You may hand them out or display them, but you may not sell them. They are for educational use only.
How to download and print the posters
The full-size posters are 8″ x 10″.
This will allow you to either print the poster as an  8″ x 10″ photograph (very snazzy) or print them at home on an 8.5″ x 11″ sheet of paper. It's up to you. Since the files are printable, they are about 1 – 2 MB each.
1. To get the printable poster, find the blue "Download the poster here" button on each poster page.  There is one on each poster page, at the very bottom of the post. It is a blue button.
It looks like this:
Download the poster here
2. If you are on a PC, the easiest way to save the poster to your computer is to "right-click" on the button, then select "Save as".
If you are on a Mac, simply do a "ctrl"-click. See here how to save files on a Mac.
This will allow your to save the printable poster to your computer, where you can then open it and print it.
3. Once the poster is downloaded, just print it as you would any other file.
---
Parrot Posters by For Parrots is licensed under a
Creative Commons Attribution-NonCommercial-NoDerivs 3.0 Unported License.
Permissions beyond the scope of this license may be available at www.forparrots.com.