From guest blogger Shauna Roberts:
Mash is a mixture of legumes, grains, vegetables and some fruit and first became known in the '70s by breeder John Stoodley. Since that time it evolved into a few well known recipes in the early '90s such as Alicia McWatter's and today is basically a whole food diet. "Whole food" meaning ingredients such as grains are whole grains like hulled barley, not pearled barley in order to deliver more nutrition.
A mash can be varied to somewhat* meet different species dietary needs, as well as some individuals, if they are suspected of some sort of dietary or other issue. A few species such as Eclectus parrots for example don't general tolerate pellets well so a mash as part of the diet could be a helpful solution. A mash consists of a grains and legumes base that if mixed properly should supply a complete protein. These should be prepared properly by soaking overnight, rinsed until water is clear and then most often brought to a boil, boiled for 10 minutes, no less, uncovered and then covered and simmered for 20 minutes or until legumes are soft. Shauna's Mash suggest the use of the less toxic legume types: lentil, dry or split pea, adzuki, mung and chickpea. If using those particular legumes you can also sprout if desired although cooking is still the preferred method. If one does sprout grains are ready as soon as tails appear but legumes need to develop at least 1/2" tails, longer is better in order to improve digestibility.
When adding produce to the grains and legumes it's highly suggested that it be finely chopped/minced or put into a food processor. This helps to insure a parrot eats all that it put into the recipe and also helps eliminate the problem of picky eaters who tend to fill up on favorite foods first making them more prone to malnutrition. Frozen vegetables can also be used in mash but with some caution since the most common frozen foods added are peas, carrots and corn which tend to again to be eaten first resulting in an unbalanced diet. Frozen peas and corn especially are often best offered separately like a dessert after mash has been eaten.
If offering mash as part of a parrot's diet we should be aware that mash lacks a few important nutrients. Those are vitamins D3 required for calcium absorption and B12. Also a fresh diet such as mash is most always high in phosphorus making it low in calcium no matter how many calcium rich veggies you may be including, so consider some sort of calcium supplementation in order to balance the calcium:phosphorus ratio. The first mash diet in the 70's is said to have resulted in beautiful healthy looking birds but x-rays are said to have shown skeletal thinning in those birds years later which is a result of a high phosphorus diet.
Including pellets in the diet can help supply vitamins D3 and B12. If birds' can go safely outdoors for natural sunlight this can help with D3, be sure to offer shade and water when outside. For some calcium one might offer cuttle bone free choice. There are also nutrition calculators available for anyone measuring out a recipe to check the calcium:phosphorus ratio they are offering such as this one set up with parrots in mind:
Compare Relative Nutrients in Two Diets
*Note: We don't know what most parrots' dietary requirements are although have some general knowledge of basic requirements. A lot has been learned over the years but there are also over 320 species to learn about and consider their differences.
A final note from Shauna and a great suggestion: 
I like using fresh produce so have the grains/legume base frozen, I thaw it and add produce from the food processor, mix in EFAs, supplements and all that takes me 15 minutes most mornings to feed 17 birds, plus the leftover mash that is dinner. It does become simple. I just returned from a veterinary conference and for that every time I made mash I fed it in the morning but bagged/froze the other half (evening portion) and before I knew it I had 10 bags of completed mash in the freezer all ready for the birdsitter. All she had to do was thaw and scoop and there was extra so just getting home I'm using up what's left.
Ways to use Shauna's Mash:
The Making of Shauna's Mash: Step-by-Step including 5 Recipes by Candace Dryden
Originally posted on the FeedingFeathers facebook page by Candace Dryden.
I wanted to let everyone know that Shauna's Mash can be done even if you work 60 hours a week.
I spent 3 hours (not including shopping time) making 5 different recipes for a 2 month's supply of healthy foods. We always want to make sure we have a variety of whole foods to offer. This way, I can just pull a different recipe, every couple of days, and I am not just making one kitchen sink recipe that would surely be lacking. I cover all my bases, and it saves time for that hurried morning.
1. I went shopping and I purchased about $60. worth of vegetables and fruits.
2. The pile of veggies are broken down into individual recipes each one measured to make sure we have a balance of Betacarotene, Vitamin K, and other essential vitamins and minerals.
3. I cooked the hard squashes, root vegetables, and cruciferous vegetables.
4. I put everything in the food processor from each recipe.
5. Packaging each recipe seperately allows us to have a wider variety of foods offered in rotations, where as, grinding them all up into one giant batch, you are sure to miss some nutrients available. As well as, this also gives the bird a variety of tastes so as not to get bored.
6. Very important to remember to add the EFAs, Green supplements and kelp. Balance is key to healthy bird.
About Shauna Roberts: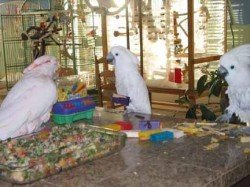 Shauna has had an interest in nutrition since the mid late 1960s. She renewed that interest in 1997 when a cockatoo wasn't doing well on pellets, and she realized a fresh diet was needed. The bird is now over 17 and doing well, as is the rest of her flock – now 16 – some of which arrived with dietary health issues. She is also a diet consultant for the parrot welfare organization, The Gabriel Foundation. Her research has taken her to various conferences to listen to nutrition experts as far as Japan and EU, as well as attending AAV (Association of Avian Veterinarians) conferences since 2003 in her mission to learn.
After retiring as a veterinary assistant, she discovered the internet and has been learning from and helping bird owners since 1995. In 2003, a parrot food list was founded named FeedingFeathers and now has over 3,700 members.
Further information: