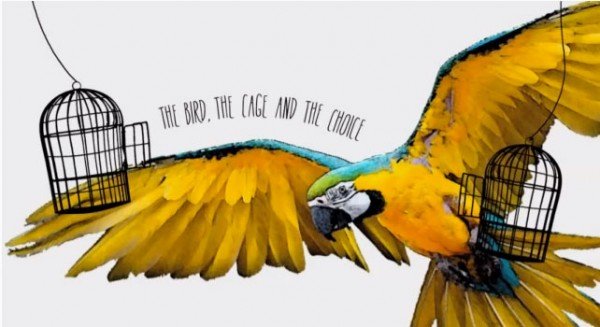 Many people fancy having birds at their homes today. But what are the consequences of doing so? The Bird, the Cage and the Choice is a film that raises the concerns of captive breeding of birds through the views and practices of a passionate bird fancier. (-Pooja Gupta)
Today I came across the work of a newly graduated filmmaker living in Hyderabad, India. Her name is Pooja Gupta, and for her thesis project, she created an extremely moving and thought-provoking short film entitled, The Bird, the Cage, and the Choice. It presents the 2 differing views people hold of parrots: the one held by those who feel parrots should be kept wild and not as pets, and the one held by those who believe that – if shown proper care and attention – birds can be kept as pets. It is without question a complex issue, one I'm certain many of us have debated over and over with others.
When I asked her what inspired her to create this film, Pooja replied:
I am passionate about filmmaking and that, combined with my interests for wildlife, motivated me into taking this up as a topic for my film. I thoroughly enjoyed the process through the project and believe in making films that can change, instill thought and communicate. That is my aim and hopefully I can find work that helps me put these interests together.
While she has never had a pet of any kind, Pooja says that her interest in the topic of parrots/keeping birds as pets came via filmmaking, her intentions and from watching those around her.
Once you watch this beautiful and touching film, I believe you will join me in wishing Pooja great success with her chosen career. Her documentary is balanced, thoughtful, and leaves the viewer with questions only she can answer for herself. On behalf of those advocating for parrots – both in the wild and in captivity – I thank you, Pooja.
Here is the poster for the film, designed by Jit Chowdhury:
Further Links: