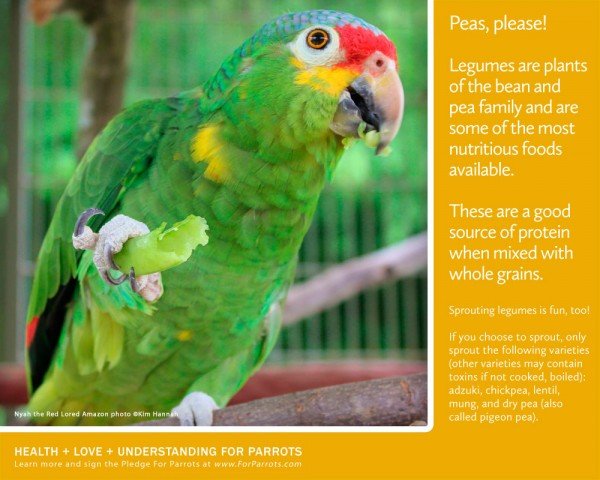 For this Parrot Poster about nutrition for parrots, I am very happy to introduce you to our guest blogger, Shauna Roberts. Shauna has graciously offered her expertise and experience with avian nutrition for the next few Parrot Posters. Today, she writes about why legumes are an important part of a parrot's diet:
Legumes are low in fat, are a source of folate, potassium, magnesium, iron, soluble and insoluble fiber. They are cholesterol free and a good source of protein although should be combined with grains in order to provide complete protein. Studies have revealed that some are rich source of antioxidants. The darker color the bean the more antioxidants with the exception of the soybean, which is light in color and contains a fair amount of antioxidants.
Legumes should always be prepared properly. This involves soaking them overnight (8-12 hours), rinsing well, covering with water, bringing to a full boil and then boiling uncovered for 10 minutes. After than simmer with lid on until tender which is about 20 minutes.
To help lower gas produced from legumes you can try putting beans in boiling water, boil for 2-3 minutes then remove from heat. Cover and soak over night then rinse well, cover with water and cook as mentioned above.
You can also sprout legumes although there may not be any real nutritional advantage to so. If you choose to sprout only sprout the following varieties (other varieties may contain toxins if not cooked, boiled) : adzuki, chickpea, lentil, mung, dry pea (also called pigeon pea).
And now, to get you started, here are some Legume ideas from The Happy Cockatoo:
Starting at top, clockwise: Garbanzo beans, short grain brown rice, green lentils, wheat berries, mung beans, red lentils, buckwheat groats and a little bit adzuki beans in the center.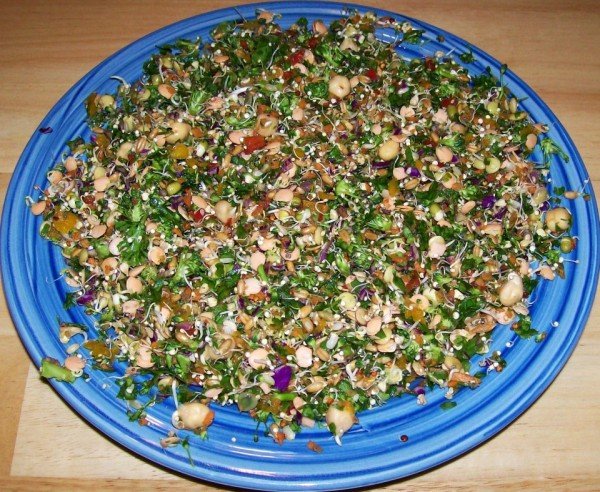 Sprouts Salad
Sprouted quinoa, garbanzo beans, wheat berries, buckwheat groats, lentils, brown rice, and mung beans with finely chopped broccoli, cabbage, zucchini, carrots with tops, ginger root, sweet peppers, kale, mustard greens, cilantro and parsley. Topped with chia and sesame seeds.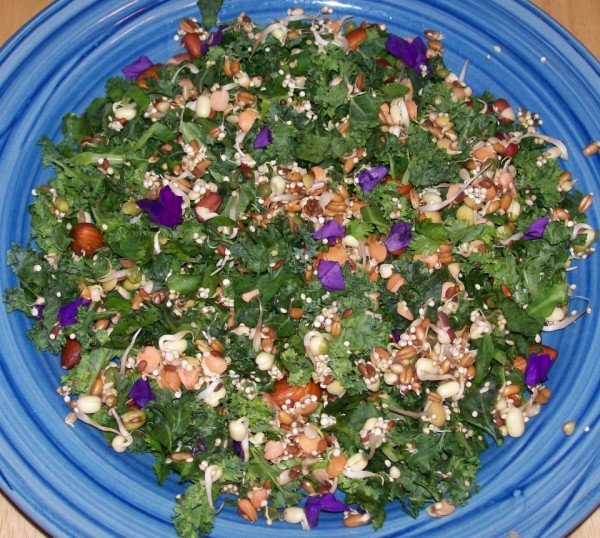 Sprouts salad with petunia petals.
Sprouts: Quinoa (black, white and red), Mung, Garbanzo, Adzuki, Red Lentils, Green Lentils, Fenugreek, Wheat Berries, Millet, Buckwheat, Short Grain Brown Rice, Sesame, Chia, Flax and Almonds.
Leafy Greens: Kale, Collard, Mustard, Dandelion and Cilantro.
About Shauna Roberts: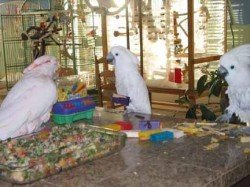 Shauna has had an interest in nutrition since the mid late 1960s. She renewed that interest in 1997 when a cockatoo wasn't doing well on pellets, and she realized a fresh diet was needed. The bird is now over 17 and doing well, as is the rest of her flock – now 16 – some of which arrived with dietary health issues. She is also a diet consultant for the parrot welfare organization, The Gabriel Foundation. Her research has taken her to various conferences to listen to nutrition experts as far as Japan and EU, as well as attending AAV (Association of Avian Veterinarians) conferences since 2003 in her mission to learn.
After retiring as a veterinary assistant, she discovered the internet and has been learning from and helping bird owners since 1995. In 2003, a parrot food list was founded named FeedingFeathers and now has over 3,700 members.
About Elle Michelle:
Elle adores parrots and has shared her home with them for over twenty years. She's always trying to come up with fun new ways to feed the flock nutritious and enriching meals. She buys most of her "bird food" in health food stores so she knows that the ingredients are all fresh, human-grade and organic. She still feeds a quality pellet mix, sprouts, and lots of fresh leafy greens, vegetables and some fruit and flowers. She makes all different types of meals so that they get a good variety of fresh foods daily.
Elle currently writes a feeding section for the Florida Parrot Rescue newsletter and provides healthy recipe ideas for the Arizona Aviculture Society newsletter. As well, she founded a "healthy parrot feeding ideas" group on facebook, The Parrot's Pantry, where members can share their healthy meal ideas with one another.
Further information:
Download the poster here
---