UPDATE 2: ArgoFilms' Parrot Documentary will be airing on PBS NATURE, November 13, 2013. Mark your calendars!
UPDATE: I am thrilled to announce that the ArgoFilms' Parrot Documentary is a GO! Allison researched "like mad", wrote a film proposal and submitted it to the Nature series.  After a small bit of back and forth, they said "yes"!  So, the project will soon be given funding and a PBS broadcast (most likely next fall or winter).
Before I sat down to write this post about a film project I am very excited about, I checked my facebook page. One of the first things I saw was this ad in Kijiji. In a few short, curt sentences and a grainy photo (heart-wrenching to those who understand birds), this ad sums up the misinformation that is rampant today surrounding birds in captivity.
While I have to trust this person would not actually kill the cockatiel, the ad illustrates quite clearly that there is still much education that needs to be shared with the general public about parrots in captivity. The cockatiel is clearly distressed and frightened, with her wings raised and photographed mid-squawk. Her cage appears barren, and it's shoved (on the floor?) by a mop and a garbage can. You get a sense of the frustration that the person feels; frustration stemming from the fact that they had no idea about what having a bird in captivity entails. They likely purchased the bird on a whim from a pet store, thinking it would be nothing more than a "feathered fish" and not an intelligent creature in need of a stimulating environment, healthy food, and plenty of interaction and love. (Or, arguably, not caged and kept in captivity at all.)
Education is key, and will help save future birds from the fate of this cockatiel. This is why For Parrots: Posters for Parrot Advocates was started, and why organizations such as the Parrot Resource Centre and the many rescues, sanctuaries and organizations around the world work diligently every day to spread the word about captive and wild parrots. We need to get the general public aware and concerned about the plight of parrots today.
Towards this end, I would like to share with you the latest film project by ArgoFilms.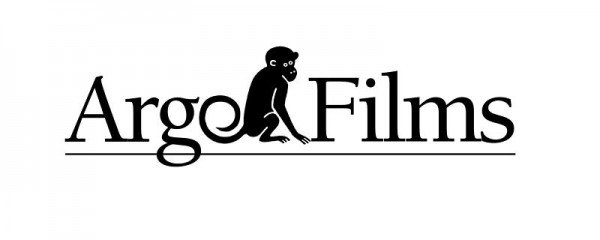 ArgoFilms is
dedicated to producing films that make a difference. Its productions have won 6 National Emmys (11 nominations), a duPont Columbia Award for journalism, multiple Genesis, Jackson Hole, CINE Golden Eagles, Missoula, Christopher, USA, and international awards from New Zealand to Canada, Slovakia to Japan.

Its mission is to inspire understanding and compassion through film. Champions of endangered life, ArgoFilms attempts to provide a voice for those who cannot speak for themselves.
Allison Argo is the founder of ArgoFilms.  As the Producer, Director, Writer, and Editor, she has been making films for nearly two decades. Allison has made 14 films with National Geographic, and has produced and directed numerous films for PBS.
In addition to making films, Allison has given numerous presentations at museums, schools and venues around the world, including the California Academy of Sciences, the American Embassy in London and the National Zoo.
I first became aware of ArgoFilms through a post by Connie English, a woman who has spent the last 25 years both rescuing and advocating for parrots. In her post, Connie had written about a new documentary film project by ArgoFilms which would  be based upon parrots.
Connie wrote,
Last year I was fortunate to meet Allison through our mutual concern for elephants and her current production, The Story of Dao. When we spoke on the phone, we discovered that we shared another concern: Parrots! Allison told me that she has long-wanted to make a film about the plight of a captive parrot, but she hasn't had the resources to pursue it.

That's all I needed to hear! I am springing into action and I hope that you'll join me! With Allison's voice and us as a flock behind her, we can turn this film into a reality.
Upon reading this, I too became enthusiastic about the educational possibilities of such a project, and contacted both Connie and Allison for further information. What follows is an email interview between Allison, Connie and myself.
Allison, why are you drawn to "being the voice" for animals in your work?
In the early 90s I encountered a gorilla named Ivan living inside a shopping mall in Tacoma, Washington. For over two decades, Ivan had lived in a concrete enclosure without the company of other gorillas. Moved by this encounter, I began to produce films that would improve the lives of animals like Ivan. Ivan opened my eyes to other individual and species in need.  I believe that the public deserves to be informed about other species so that we can make informed choices about how to care for them – both in captivity and in the wild.  That is the focus and purpose of my work.
Connie wrote your "films have inspired compassion and change, often in tangible ways." What are one or two examples of change that your films have inspired?
The film, The Urban Gorilla, helped to catalyze a movement to improve Ivan's living conditions. We also created a "relocation fund" and raised money to move Ivan (through the film's broadcast).
Not long after the film aired, Ivan was moved to Zoo Atlanta where he was given contact with other gorillas and a more natural environment. Of course, it would have been best if he hadn't been taken from his mother in the wild 30 years earlier, but it was a definite improvement over the shopping mall.
Another film, Crash: a Tale of Two Species focused on the relationship between horseshoe crabs and a species of shorebirds that depend on the crab's eggs during their long migration to the Arctic. Horseshoe crabs have been over-collected in the Delaware Bay and the bird population crashed. The film was released just before a major vote in NJ that would determine whether or not to place a moratorium on collecting horseshoe crabs (for bait). The film was shown to NJ's elected officials and they voted to pass the moratorium. Experts are now cautiously optimistic that the bird population may be increasing.
Connie, what is your background with parrots? You wrote that you've rescued them for 25 years. Do you have a rescue organization?
As a young adult I worked for 2 years as an assistant technician for an exotic veterinarian who specialized in Parrots. I later went on to build my own pet sitting service, mostly for parrots. Over time I have taken in and placed a fair share of unwanted parrots or small birds, but the 2 blue and gold macaws and cockatoo I currently have have been with me the past 25 years. No, I am not a rescue organization. I am an artist who uses her art to raise funds and awareness for the animals in need of respect and attention.
I used to raise and train tigers, jaguars, leopards etc. at an endangered species preserve – a small non-profit educational center. I did this for 3 years, lived on the property and it was my life.
I knew these animals inside out, raised them on baby bottles, taught them to walk on leashes, behave at school programs etc. all using empathy training. I tell you this because of all the animals I have worked with, parrots are by far more complex, yet anyone can buy one at a pet store…?
Just because parrots are smaller and more handleable than a tiger, does not mean we as humans automatically have the tools to deal with their social language of being a parrot.
Note: Connie has created some beautiful mosaics which can be seen at Parrot Garden (Best Friends Animal Society Kanab, Utah).
Allison, what is it about parrots that inspires you to make a documentary about them?
Their intelligence and longevity. I've watched them in the wild and have been amazed by how bonded and social they are.
Decades ago a member of my family bought a parrot. Rico didn't last long in their household. It was a terrible situation for the parrot and I've often wondered what became of him. I've heard about similar stories over the years. I would like to share the story of a bird like Rico so that people will be more aware of who these birds are and what they need.
Connie, why do you feel this is an important project?
Parrots are the 3rd most popular pet after dogs and cats but the least funded when it comes to rescue and re-adoption. Everyone "sees" the stray dog or cat roaming the street and jumps into action. But no one sees the parrot locked in the dark garage, dirty water and barely any food because the owner can no longer tolerate the noise and mess and wants to simply ignore it.
Each year 1000s of phone calls are received by underfunded parrot sanctuaries, from people wanting to "get rid" of their bird. What is happening to these parrots who are turned away? Many are being euthanized, abused or passed on to a new owner, over and over. The average parrot has 10-15 homes in one lifetime due to their average lifespan of 70 plus years.
I feel that this film will bring national and global awareness to the sanctuaries in need of assistance as well as the truth about owning a parrot, to the prospective buyer – before they buy. The truth is, why buy when there are enough parrots up for adoption to satisfy the next 2 generations of humans due to their long lifespan. I learned this during my visit to the Parrot Garden at BEST FRIENDS animal sanctuary in Utah this year.
The captive parrot needs a voice for positive change and this AMAZING opportunity by a 6 time national Emmy winner – Allison Argo – is just unbelievable!
Connie, what are some of the "myths" about parrot ownership that you feel need to be addressed in order to help parrots in the future?
Parrots are complex! I would compare them to owning a chimp with both the intelligence and destructive abilities to boot. Truly, who is prepared for that? Parrots in captivity are deprived of all their natural needs: a flock, a mate for life, offspring to raise and groom, the gift of flight and play. How do we as humans simulate that?
Stuffing them into a 3×4 cage while owners work or are away all day is no comparison to a life in the wild with all its stimulation, excitement and freedoms. It's the complete opposite and no one wins. Imprisoned for life for no crime of their own.
So often when someone hears I have birds, they say, "Oh, we used to have a so-and-so parrot, but we gave it away."
My focus is not on the pampered parrot, and I am grateful for those exceptional owners that provide for their birds. My focus is on the unsuspecting bird that is not so fortunate. New prospective owners need to know "all" the truths to this commitment, before they say yes. It's that simple.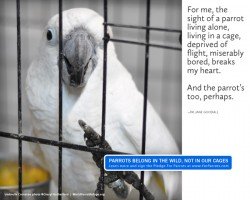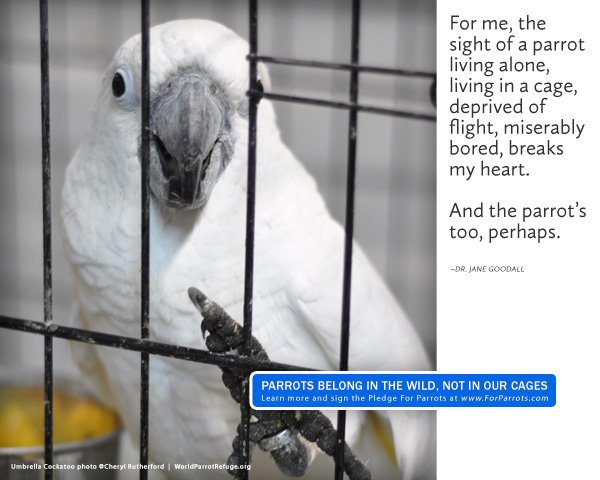 Allison, with so many complex issues in the parrot world, which do you intend on investigating – companion (captive) parrots, wild parrots, rescue, breeding, intelligence, conservation…?
I won't be able to answer this intelligently until I delve into the research. This is why we're raising funds for Research and Development. I always research my films very thoroughly before coming up with a concept.
How will the funding for Research and Development be used?
The funding will go towards purchasing materials (books, dvds, etc.), any necessary travel expenses, shooting and editing a "pitch reel" (with technical support), and travel expenses while selling the film (to procure full funding for shooting & editing the film).
How can the Parrot Community help you?
The Parrot Community can help by
helping fund our research and development phase
spreading the word about the project
by sharing stories about a particular bird.  I'd love to hear them! (Contact ArgoFilms here.)
Once the research stage is completed, then what?
I will look for a broadcast home for the film and the funding for production and post production.  I am optimistic!
What is your ultimate goal for the film and what do you hope to achieve?
I want to communicate information — to expose folks to who parrots are and what they need – both in captivity and in the wild.
In conclusion, there are many parrots living right now in homes like the Kijiji Cockatiel introduced at the beginning of this post: parrots living with people who have no idea about how to care for them, or even interested in finding out.
A documentary by the award-winning and compassionate Allison Argo would help reach those who otherwise don't have a clue about the realities facing captive and wild parrots today. There have been films made that make parrots look "fun" to have (Rio, Paulie, even the Parrots of Telegraph Hill), but there are no films that I am aware of that tell the parrot's story from the side of the parrot. I believe Allison, with our help, will be able make a difference for parrots the way The Urban Gorilla did for Ivan and Crash: A Tale of Two Species did for shorebirds.
Please watch this short clip showcasing what ArgoFilms has produced over the last 20 years:
To support this project, please consider making a donation. The money raised will go towards financing the Research and Development stage of this very important documentary by ArgoFilms. We need to show Allison that we – the very people who care about parrots – also believe in the necessity of this documentary. We need to help ArgoFilms give parrots a voice.
Further information: